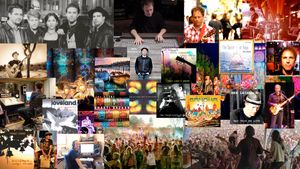 The words "masterful", "remarkable", and "it seems everything he touches turns to gold" have been used by various periodicals when reviewing music created by award-winning producer/composer/multi-instrumentalist Ben Leinbach.
     Okay. I just had to use 3rd person narration for that opening sentence. Let's get back to 1st person.
     I use the term "world music" often when referring to my musical domain. That designation covers a lot of ground. Each artist that I work with brings a unique set of musical influences and sonic preferences to the studio.  Some projects call for a reggae or ska vibe, others lean towards gospel, soul, or funk, and yet others draw on elements of Brazilian or African music. At times the artists want the production to sound organic and acoustic, other times the songs call for a dose of electronica.  For a producer this is ideal. Each day I might be exploring a different genre. This keeps things fresh and inspiring.
 
     The artists and I often employ the layering of instruments from different parts of the world in our productions. We might use Indian tabla, the African kora, and Western electric guitar on one song, or layer the South American charango, American Indian drums, with some Tuvan throat singing on another.  I know that sounds contrived as hell. Those are just some extreme examples off of the top of my head. But combinations like these, usually layered over lush background textures with at least a small dose of psychedelia, hopefully create a universal sound that can connect with ears from around the globe.  
 
     I grew up listening to popular music and playing rock and roll. After college I continued pursuing a career as a rock and jazz drummer. Concurrently I held down an inspiring day job of making photo copies in the basement of a consulting firm in Oakland, CA. After a couple of years of that and with great sadness, I left that day job behind to take up an internship at a recording studio in Oakland called Spark Productions.  This was a great moment for me. Little did I know at the time what the combination of broad knowledge in music theory, composition, and arranging,  performing skills on various instruments, AND learning the art of recording, mixing, and mastering would do for my career. That combination of strengths starts to resemble the skill set of something called a "producer".  Anyway,  my boss at Spark Productions, Tony Mills, helped me get just barely trained on how to operate the insane amount of electronic gadgetry in the studio and then proceeded to throw me into hundreds of gansta rap recording sessions. At the time the studio was recording mostly hip hop, r and b, and gospel, but also a lot of jazz, latin jazz. world music, and the occasional rock project. This was a fantastic. Everyday there was something to learn, musically and technically. After a few years of pushing buttons and turning knobs, I started producing singer-songwriters and delving into creating backing tracks for some rap and r and b artists.
 
     One day Jai Uttal came into Spark Productions to record his album "Beggars and Saints". That was another turning point in my musical journey. Through the long hours spent recording this album Jai and I established a smooth working rapport and became close friends. I've gone on to recorded every one of his albums since then, including his Grammy-nominated album Mondo Rama. We also started co-writing music together, and have released four albums of world music. Through Jai I met his former percussionist Geoffrey Gordon (R.I.P.), and through Geoffrey I met yoga rock star Shiva Rea. These relationships started to steer my path into the yoga music realm, which included kirtan, a form of call and response ecstatic singing and prayer. Within this genre I've gone on to record and produce projects with Deva Premal and Miten, Snatam Kaur, Donna De Lory, Jaya Lakshmi, David Newman, Mike Cohen, Brenda McMorrow, Johanna Beekman, Katie Wise, Rob and Melissa, and many others.
 
     I currently work out of my home studio in San Anselmo, CA, just north of San Francisco. Mostly I produce, record, and mix projects for artists in a variety of genres. I get called upon to just mix projects, master projects, add additional instrumentation to recordings-in-progress, edit and arrange tracks, help finish writing and arranging an artist's songs, or to co-write songs from scratch. I'll help a project out in any way I can, really. Whatever serves the music.  I can jump in anywhere along the process of writing, arranging, recording, producing, adding instrumentation, editing, mixing, and mastering and help a recording along. I also compose tracks for libraries that supply music to TV and film, and have recorded and performed on several commercial spots for TV and radio. My co-creations with Jai Uttal have appeared in several films.
     Please drop me a message here if you have further questions or comments or would like to explore collaborating on some music. 

CONTACT
 
     Here's a little more bio info if you're interested: 
     As a freelance sound engineer I've worked on projects with Joan Baez, rappers E-40 and Spice-1, Ledisi, Pops and Peto Escovedo, saxophonist Joshua Redman, film composer Lawrence Rosenthal, former Testament guitarist Alex Skolnick, Tim Alexander of Primus fame, Dawn Robinson from En Vogue, world music pioneer Jai Uttal, The Braxton Brothers, The Turtle Island String Quartet, new age music trailblazer Steven Halpern, Krishna Das, monster bassist Michael Manring, former Santana percussionist Orestes Vilato, guitar virtuoso Jose Neto, drumming freak-of-nature Horacio "El Negro" Hernandez, and steel pan maestro Andy Narell. 
     As a drummer I've performed with sax great Chico Freeman, bassist Michael Manring, Jose Neto, Jai Uttal, Wah!, jazz singer Kurt Elling, and have jammed with Joshua Redman. A few of my former bands shared bills with Green Day, Primus, The Ohio Players, The Mighty Mighty Bosstones, Flipper, Charlie Hunter, and John Scofield. My jazz quartet once backed up a Jay Leno stand-up comedy routine. I have also performed with Lavay Smith and Her Red Hot Skillet Lickers, Clint Eastwood's son Kyle Eastwood, and Mingus Amungus. 
Thanks for reading. 
Ben